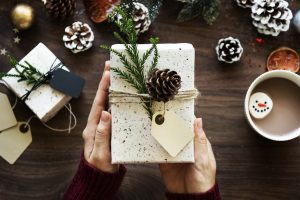 Four Gift Ideas for Caregivers
Constance Ray
The holidays are a season of giving, bounty, and blessings, but also a time to be grateful and to remember those important to us. But what do we get those whose job it is to give? These are the people that look after those we love, aiding those who need caring the most. A caregiver's job is never-ending; even when at home, it can be hard to put the worries of their charges aside. After all, it's easy to overlook ourselves and focus on others, especially if you walk a spiritual path. This holiday season, why not give the ones looking after your family and friends gifts that can help them unwind and take care of themselves emotionally, physically, and spiritually?
Practical Gifts
 There is an idea out there that all practical gifts are unwanted or can even be seen as offensive. While buying someone a vacuum cleaner (when they haven't asked for it) could be presumptuous, there are plenty of practical gifts out there that can be truly helpful and appreciated. Consider a white-noise machine to help a caregiver relax and overcome distractions to sleep, meditate, or pray. Or, if you live in a dry climate, a portable humidifier can help caregivers not only breathe better at night but may also help them at work as well.
Spiritual Gifts
 Nothing can help a stressed body unwind the way a connection to spirituality can. Whether through prayer, meditation, or reading of scripture, there are so many options out there to help us connect with our spiritual side. Whether it's gentle music to meditate and pray to, a faith-based box subscription, or even religious wall art to give us gentle reminders about the bigger picture, this type of gift can be welcome this holiday season.
Pampering Gifts
 Gifts that help your caregiver unwind at the end of the day can be some of the best gifts of all. This year, why not get creative? Adult coloring books are an excellent way to de-stress. Consider getting a meal-delivery service, such as the Blue Apron service. It's reasonably priced and can be a fun way to try new things, and eating delicious food you have cooked yourself is an excellent way to decompress. If you're looking for something quirky and unique, consider an adult onesie your caregiver can snuggle up in at the end of a long day during the cold winter nights.
Experience Gifts
 During the holidays, it can be easy to focus solely on "things" and to lose track of what the season is truly about. Instead of buying another material item, consider giving the gift of an experience. From theatre tickets to a course teaching you how to make espresso, a thoughtful memory can mean more than just another object in the house. A pass to a national park can rejuvenate the body, soul, and mind through beautiful hikes or even quiet picnics.
Remember, especially during the holidays, it's important to thank those who help us in our lives. Caregivers work unbelievably hard each day to support our loved ones, and while most don't do it for gratification, it is important to make them feel appreciated. The spirit of the holidays is generosity, and giving a simple gift to those often overlooked is exactly what the season calls for. Whether it's a meal delivered from Blue Apron, a piece of artwork with a moving scripture, or even a white-noise machine, it's easy to give a gift your caregiver will truly love for years to come.
_______
Image courtesy of Pixabay