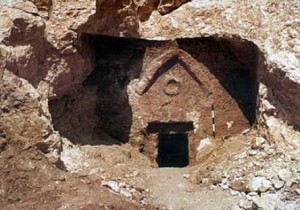 Examining the 'Jesus Tomb' Evidence
by Jay Cost
I. Intro
In 1980 an ancient tomb was found in Talpiot, a Jerusalem neighborhood. It contained 10 ossuaries (bone boxes) dated roughly to the time of Jesus of Nazareth. One was inscribed "Jesus son of Joseph," two were inscribed with slightly different versions of "Mary," one with a slightly different version of "Joseph," one with "Matthew," and one with "Judah son of Jesus." The Cameron-sponsored Jesus Family Tomb proffers a specious claim based upon bad theory, bad statistics, and bad history.
II. Chemical Evidence?
It is a waste of time to test patinas known to have been from radically different environments than the "James" and Talpiot patinas. In addition, one cannot in a single trial (a) test the validity of a new methodology and (b) apply it. How do we know the method is valid? It is inappropriate to announce results like this to the general public, which lacks the expertise to evaluate the claim, without first having it thoroughly vetted by scholars and experts. i. The Talpiot tomb was discovered in 1980. Just last month, a photograph dated prior to 1980 emerged that clearly shows the "James" ossuary. ii. The earliest tradition regarding James indicates that he was buried near the Temple Mount, some distance from Talpiot.iii. The soil within the "James" ossuary does not correspond to the soil at Talpiot. Rather, it corresponds to an area that is consistent with the original tradition regarding the burial
III. Statistical Evidence?
Virtually everybody named "Jesus son of Joseph" is as good a candidate for this tomb as Jesus. And, for that matter, a strong majority would be a better candidate. For instance, more than 97% of all people named "Jesus son of Joseph" would be expected to have at least two women named Mary among 34 relatives. Can we actually derive a probability that this is Jesus' tomb? We can, if we consider the tomb in light of the historical record. It is relevant on two points.First, it seems highly unlikely that Jesus would be a candidate for burial in this tomb. This is the case for at least six reasons.
i. Few scholars – including those who think Jesus was not bodily resurrected – believe that he was buried at all. There is good reason for this. The earliest testimony indicates that the tomb was empty. Later testimony is consistent with this. This testimony further indicates that all parties – the Romans, the Jewish temple authority, the Christians – agreed that the body had gone missing. ii. Even if we assume that Jesus was buried, it is exceedingly unlikely that he would be buried in or around Jerusalem. Everybody had an interest in finding his body. It would have been a prize "get" for early Christian opponents – who were of course centered in Jerusalem – to produce it. How did they miss it when it was so close by? One would expect the Jesus family tomb, if it did exist, to be either in the north (the family's first century A.D. home), or in the south (the family's ancestral home). iii. This pictureof the exterior of the tomb shows that it is ornately decorated. This tomb is not secretive. It is not possible to bury a person outside, but the Jesus in this tomb comes close. Again – how could Jesus, the production of whose body would have saved certain authorities many headaches, not have been unearthed from this tomb prior to 1980? iv. The ossuary in question is unadorned. It bears only chicken-scratch writing that simply says, "Jesus son of Joseph." Most scholars consider Jesus minimally to have been a teacher, probably a healer, with a devoted following. Would his followers have treated him so shabbily in his internment, considering how much care was taken to anoint the body? Meanwhile, other ossuaries found at Talpiot are well-adorned, with names not so carelessly scratched into decorated ossuaries. v. The name on the ossuary, "Jesus son of Joseph," was not how followers addressed Jesus. As a matter of fact, this is what Jesus' opponents called him.Thus, I would assign a 1 in 1.4 million chance that this tomb belonged to Jesus. These odds are a little better than the odds that I will die in a tractor accident this year.
IV. Conclusion
Scientific method demands a careful, systematic weighing of all the evidence, for and against. The documentarians have not done this. This is how a freak accident becomes a sure thing. What they offer here is not science, but pseudo-science — polemic dressed in scientific language. The game was rigged from the start.