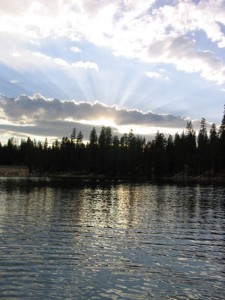 Hope
"And now these three remain: faith, hope and love." 1 Corinthians 13:14
Last time, we discussed "
Faith
".  This time, let us look at the beautiful topic of "
Hope
". We actually live with a certain kind of hope all the time.  For instance, athletes have the Hope of winning an Olympic medal… the gold one; some of us even "hope" to win a Lottery some day.  On a more serious footing, the hungry of this world have the simple "hope" of obtaining a single meal today.  Mankind talks of the "hope" of eradicating cancer and diseases, establishing world peace and eliminating child poverty. All these facets of "hope" are valuable indeed and they are "worthy goals" for all. But these "hopes", as dignified as they may be, remain "earthly and temporary". The Christian belief system talks of an unfading and eternal hope.  Let us look at a few verses in the Bible:
"Against all hope, Abraham in hope believed … just as it had been said to him…"  Romans 4 :18
"And hope does not disappoint us, because God has poured out his love into our hearts by the Holy Spirit, whom he has given us."  Romans 5:5
"May the God of hope fill you with all joy and peace as you trust in him…" Romans 15:13
"…a faith and knowledge resting on the hope of eternal life, which God, who does not lie, promised before the beginning of time…" Titus 1:2
"…having been justified by his grace, we might become heirs having the hope of eternal life." Titus 3:7
What is your Hope?  Hope is to wish for something with expectation of its fulfillment.   The hope that Christ offers to believers is not limited by the parameters of time and space.  His Hope is eternal and available to all.