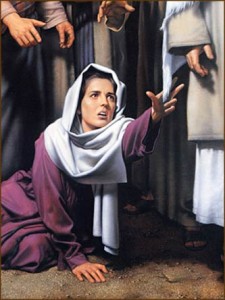 Faith
Philippe Paquette
"It's about faith, it's about trust…" Title: Nothing Can Come between Us Singer: Sade.
"Life is no straight and easy corridor along which we travel free and unhampered, But a maze of passages, through which we must seek our ways […] But always, If we have faith, a door will open for us, Not perhaps one that we ourselves would ever have thought of, But one that will ultimately prove God for us." Author:
 A.J. Cronin
"Without faith, it is impossible to please Him…" Hebrews 11:6
If our readers will seize 5 minutes from their busy life and read the great faith chapter of Hebrews 11 (in the Bible), their 'souls' will be uplifted and at the very least 'challenged'!   Even the 'cursory' reader will discover a lot of significance in this chapter such as the reasoning, experience, trial and energy of faith. Of course, in varying degrees, we all experiment with the faith concept on a daily basis. For example, I have faith that when I turn the key in my car, it will start!  I don't understand or know anything about 'electronic fuel injection systems', yet I still believe that the car will start… (And it does!)  This is not the kind of faith we have in mind presently! At one point, Jesus told his followers: "I am the Resurrection and the Life. He who has faith in Me will live forever… 
Do you believe this?
" The whole point of this 'spiritual' application is not so much: Do I believe but rather: 
Who do I believe in?"
 Who is the object of your faith!  The real, eternal value of Faith is not the fact of faith, but rather, the object of faith! Do you have that 'Biblical Faith' referred to above? As a reader of OKCHRIST, we want you to benefit from this Object we are endeavoring to promote – The Eternal Son of the Father's love. Jesus has said: 
You have faith in GOD, have faith also in me… [for] he that has seen me, has seen the Father!"
 WOW!!! What a statement! That is the faith you need to bring you into the eternal enjoyment of the Father, the Son and the Spirit of Truth.
"Let us throw off everything that hinders and the sin that so easily entangles, and let us run the race… By fixing our eyes on Jesus…"
With our affection in Jesus, the Son of the Father's love! Your friends at OkCHRIST!