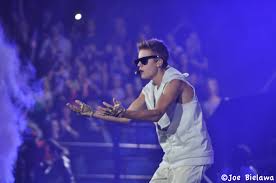 Justin Bieber increasingly bold
Despite what he considers a 
close relationship with Jesus
, Bieber recently told a magazine that 
he doesn't go to church much
, and considers himself "spiritual but not religious."
Justin is a child of God by confession. In other words, he has proclaimed ("proclaim" – Justin in NEVER SAY NEVER prays to Jesus before his shows) that he is a Christian. Also, see videos of his personal confession of Faith and the most recent articles about his discipleship.  He doesn't have to continue any practice… what he has to do is 
not to be afraid
 to express the fact that he IS a Christian. That "discipleship" is needed by role models like Justin. We R all called.  Carry on baby.
_______________________ _______________________
History: Justin was accused of fathering a child while he was a juvenile with a female legal mature adult.  Humm… (That would make her a child molester or something of the sort… and it would make him… a dude of some sort.   The only folly here smells like money).  Justin claims with confidence that he does not know this woman. To B followed… Update: Now we know that the accusation was false.  Justin was the 6th male victim of that women… (same accusations for all of them) and her own lawyers resigned from the case discovering her past history.
Justin rules as he follows his Lord… ________________________________ REMAIN A BELIEBER IN CHRIST, Justin.  Just ignore the ignorant Lettermans and all… Be strong!  As in AVATAR, Jesus smiles upon you and says: "I see you".  :-)
info@OkChrist.com