For HIS "mercy"endures forever.
Philippe Paquette
The word "Mercy"
The beauty and richness of that word "
mercy
". (Please read the poster below. I refer to it later).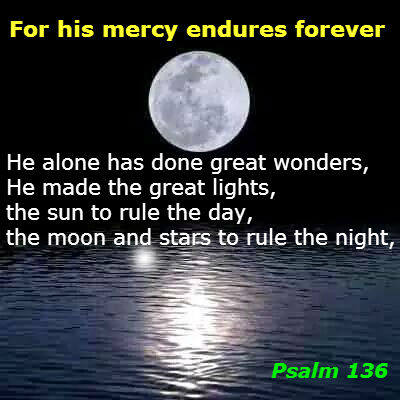 Let's get right into the Hebrew for some help. The word we use as
"mercy"
is based on this Hebrew word: "
chesed
". There are so many nuances of this word and allow me to make your head spin a tad. From my research, this word is repeated 223 times in the Old Testament. In the Psalms, this word is used 100 times. Its Koine Greek equivalent of the same word – "
charis
" (grace) is used 60 times in the New Testament. Thus, in the entire Bible, "mercy" is written
283
times. There must be a reason why the Revealed Word of God utilizes this beautiful word this often. Let's look at that. An allegory for you. Imagine that you are a powerful General in the Roman Army and you have just lost a key battle against Caesar's enemies with thousands of deaths under your command, having lost most of your Legates, Tribunes and half of your Centurions without counting the Munifex (1). A messenger approaches your tent. You are summed to appear, "with haste" before Caesar himself.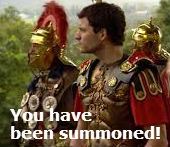 Still bloodied in your armored uniform, trembling of fear of the expected reprisals, you enter the palace and have immediate access to the throne of your Leader who is surrounded by hundreds of his most loyal friends.
Grace
As you advance towards the Emperor, head down, you hear Caesar declare:
"Well done General (put your name here). This battle is lost but the war shall be won. You remain my favorite General".
Suddenly, slaves brings you a Roman dignified chair and you are invited to sit and rest before your supreme leader. He treats you with compassion. He declares your total clemency and even demonstrates sincere pity for your losses. That attitude towards the General would be called:
"Chesed"

or "Mercy"

.
You did not expect nor deserved such a show of affection, yet, this is what you get. There are so many translations for this word, time for your head to spin.
Chesed (OT) – Charis (NT)
Mercy Charity Favor Kindness (incomprehensible kindness) Goodness Loving-kindness Steadfast affection Love Friendship Undeserved blessing Strong stale love Loyalty Faithful devotion
In essence, these are all sentiments that portray the very heart of God, our Father, our Savior, and our Trusted Teacher / Comforter. The Godhead longs to pour upon his favorite creation (men, women and children) all of the above and so much more. Now accompanying this article, please notice that I use this word in relation with
Creation
. Indeed, Creation of this Universe and this unique tiny little blue planet is the very first expression of the love, the grace and the mercy of the Creator towards you and I. From the very foundation of Creation way for everlasting within Eternity,
God's grace endures forever!
Reason to rejoice, dear reader.
(1) 
Munifex
– basic legionary – the lowest of the trained rank and file. Tirones – new recruit to the legions, a novice. _______ And here is another way to present the same topic :-) thanks to the
Skit Guys
.